AxFlow
AxFlow, Europe's leading supplier of pumps and flow equipment to the process industry, was facing an extensive remake to transform its web both graphically and functionally. The goal in general was to create a web that was easy to navigate, had an appealing visual appearance and with the correct product data that showed on AxFlow's broad application knowledge.
The challenge
AxFlow operates in 31 different markets across Europe, South Africa and Oceania. In addition, there is a need to present their offer in 20 different local languages ​​for a good individual end-user experience. With a very wide range of products, AxFlow wanted flexible systems that would work seamlessly together. Not only product images but also related metadata and other media files needed to be organized and communicated in a fast and smooth way to a decentralized organization in a global market.
Solution
AxFlow chose to combine the power of ImageVault DAM with InRiver PIM and Episerver Commerce / CMS, all of which have complete and fully integrated connections with each other. With this, they save a lot of time and do not have to think about the maintenance of the connections between the systems. The media files are stored in ImageVault, which exchanges metadata in the form of product information, which in turn is stored in InRiver. This means that there is always correct information in both systems and facilitates the ability to find the right files and information. Episerver commerce / CMS is responsible for the public presentation of the common data.
"We also use the connections for MS Office and InDesign to ensure that we get the right information in the form of images with associated product data for our printed material as well as digital documents or presentations," says Martin Bolinder; Digital Business Development Manager at AxFlow Holding.
The result
With our new solution, AxFlow not only saves a lot of time but we also ensure that the right images and product data are profiled in the right way, at the right place, and in the right context that we want on a global market.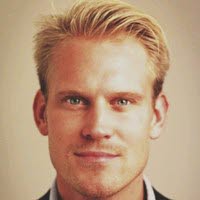 Martin Bolinder - Head of Digital Business Development
Website: AxFlow
Implementation partner: Decerno